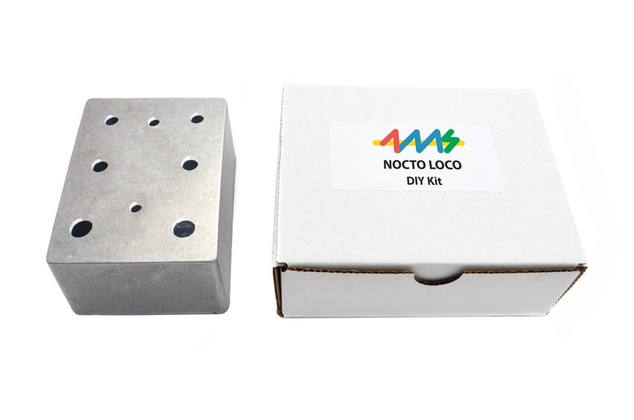 Nocto Kit
Build your own Nocto Loco guitar pedal, with the Nocto kit.
The Do-it-yourself kit includes all the parts necessary to build a fully-featured Nocto Loco. This is an intermediate-level kit, you need some prior experience, and you must have some basic hand tools (flush snips, needle-nose pliers, and a wire stripper).
Kits include:
all components (resistors, capacitors, LEDs, ICs, transistors, sockets, jacks, pots, knob covers, switches, clips, etc..)
PCB (optional, see below)
drilled cast aluminum or steel box (optional)
26-guage pre-bonded wire
Instructions (online at commonsound< /a>)
Tech support via the forum
You supply:
all tools (soldering iron, solder, wire snips, wire strippers, and perhaps needlenose pliers and screwdrivers)
patience... especially if it's your first kit!
Are the kit instructions online?
Yes, here:Kits Wiki
I don't have any electronics experience, can I make a pedal?
We recommend knowing how to solder before trying a kit. Many books and online resources are available on the subject (public libraries are great). You also should be able to identify components (tell the difference between capacitors, resistors, transistors, IC's)

For absolute beginners, we recommend the Tremulus Lune or Noise Swash.
People with any pedal-building experience may want to try either of the above, or the Stereo Panneur or Phaseur Fleur.
The Atoner and Triwave are more difficult and recommended for experienced builders only.
What kind of support do you offer for building kits?
The primary source is the commonsound forum. Please ask any and all questions on that forum instead of emailling us. That way, everyone can benefit from the answer!
Can I get mods with my kit?
Yes, most mods are available for the kits. If there's an instruction sheet for the mod on the commonsound kits page then the mod is probably available. Otherwise, it's not available as a kit. The PC Boards have some mods built-in, so ask us. We also can do mods fo r you, after you've completed the kit.
Wait a minute... can't I just buy the parts myself and use the online instructions?
Yes! Please do! we don't find it terribly fascinating to put parts into baggies all day, but we sell kits anyways because we know sometimes it means the difference between someone having a 4ms pedal and not having one. So if you're capable of ordering your own parts and don't need lots of tech support, then bypass the middleman... We always love to get an email from someone who took the initiative and built their own pedal!
Can I sell the pedals I build?
You may build kits for yourself or to give away, but if you use the pedal for commercial purposes (sell it, or include portions or all of the circuit in something else you sell), then you must have permission from 4ms pedals and follow certain terms. See the current license.
Nocto Loco
"Pro" green board, doubled sided traces with legend
PC board mounting pots to save wiring
Fits in 1590C aluminum box or 4" square steel box